Tegometall Compatible Shop Shelving
Firstly,We wanna introduce ourshelves,We Beson Metal Products,which is a professional manufacturer of shelving.Including shop shelving compatible with Tegometall shelving.

Some people maybe have heard about Tegometall,But don't know what it is,what it does???
Tegometall,Which is a famous and big company,manufactures and supplies shop equipments.And its shelving called,Tegometall style shelving,which receives appreciation by its modularity and flexibility.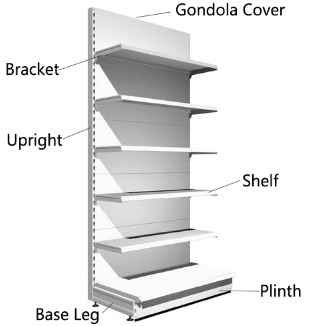 Shelving bay is available in various width, depth, and height.We also can adjust those dimensions to fulfill your requirements.You can save your space by using Tegometall shelving.Tegometall is easy to extend,and change.
If your store needs any expansion or adjustment,Tegometall units can be reused and easily fit your new store.By the way,Tegometall has an excellent reputation for its strengths.Its maximum load capacity is similar with warehouse racks so that you can display any product with Tegometall shelving.It applies in many areas, such as grocery store, pharmacy,garden center, and so on.It is easy to assemble and does not need any screws & nuts.
Why Tegometall Shelving So Popular,Its Main Advantage below:
1)German Tegometall design,the most classic system in Europe with a neat finish,simple but firm structure.
2)Compatible with most popular systems in Europe like Itab/Eden/CAEM and so on.
3)Heavy loading capacity from 60kgs-300kgs/level to meet different usage.
4)Perforated back panels have a hole spacing of 15mm,25mm,30mm,45mm and 50mm,so will accept most sizes of pegboard hooks.
5)Easy for mass produced and cost less labour.
6)Various optional accessories such as wire shelf,seperator,rear support bar,pegboard and cross tie bar hooks,wire or plastic shelf stopper,wire separations,magazine shelves to meet all display needs.
7) Installed easily without screws or nuts, which could save labor cost and not easily rusted.